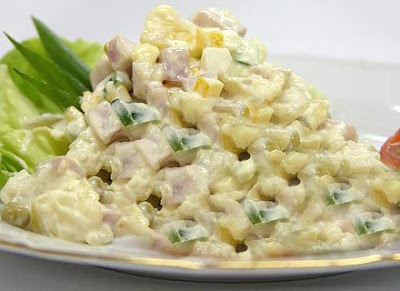 Preparation time : 10 mins | Serves 4 persons
Salads, healthy and rich in vegetable nutrition are one of the best sources of vitamins and other vital minerals. When making salads with white meat or egg, they become a healthy source of proteins too. In this egg salad recipe I have use boiled eggs with corns and capsicum to make this salad a complete protein diet. Its dressing makes it even more healthy as compared to other salad dressings. Serve this egg salad with garlic bread.

Ingredients:


4 hard boiled eggs
1 cup mayonnaise
1 cup yogurt
1 tsp freshly crushed black pepper (using a peppermill)
1/2 cup sweet corns
Salt to taste
Pinch of oregano
Pinch of rosemary
1 tspn sugar
1 tbspn lemon juice
1/2 cup capsicum (finely chopped)

Procedure:

1. In a bowl, mashed the hard boiled eggs using fork so that eggs break into very small pieces.
2. In another bowl, mix rest of the ingredients well using egg beater.
3. Now mix the mashed eggs into the above mixture.
4. Put this egg salad into the fridge for few minutes to chill.
Note :

Using a kitchen mandolin slicer will save you lot of time for other work as it slices, dices, shreds and make cubes of vegetables and fruits in very little time.
Servings:
This egg salad is ready to serve for any dinner party or you can also use it as sandwich stuffing.