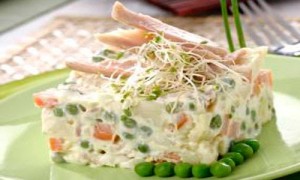 Preparation time : 15 min. + Chill time | Serves 6-8 persons
This recipe for Russian salad is one of a nutrition rich recipe which can be taken as lunch meal. It contains variety of vegetables, fruits along with pasta and chicken hence become good yummy salad.
Ingredients:
1 cup boiled potatoes (cut into cubes)
1 cup cabbage (shredded)
1 cup carrot (cut into thin squares)
½ cup sweet corn
½ cup red kidney beans
1 cup pineapple chunks
1 medium apple (cut into small cubes)
1 cup boiled macaroni
½ cup cooked chicken (½ inch cubes or shredded)
For Dressing:
1 cup mayonnaise
1 cup cream
½ tsp white pepper
½ tsp salt
1 tbsp sugar or to taste


Procedure:
1. At first prepare dressing for that you need to combine all the ingredients of dressing in a large mixing bowl and mix well using hand beater.
2. Now one by one add vegetables, macaroni and chicken to the dressing and mix well using wooden spoon or spatula.
3. After that freeze it for just 30 min in freezer to set or you can chill it simply in fridge for an hour. Tempting Russian salad is ready to serve.
photo source : 1