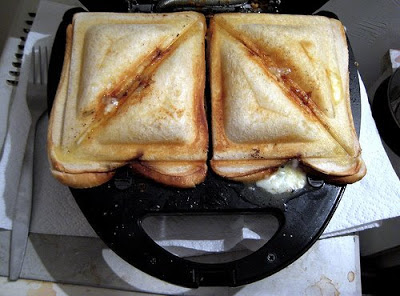 Preparation time : 30 mins | Serves for 10-15 persons
When looking for quick vegetable snacks, sandwiches are my ultimate choice. This sandwich recipe is a healthy one since it has lots of vegetable nutrition in it. In order to make a perfect sandwich filling you have to use fresh vegetables and only cut them when sandwiches are to be prepared and served. Due to less cooking time most of the nutrition of vegetables remain in the filling. These sandwiches would give better taste when toasted in the sandwich maker.

Ingredients:

1 cup cabbage (chopped)
1 cup carrot (chopped)
1 cup capsicum (chopped)
1 cup spring onion (chopped)
1 tspn white pepper
1 tspn black pepper
1 tspn salt
½ tspn Chinese salt
1 tspn chili sauce
1 tspn soya sauce
1 tspn Worcestershire sauce
3 tbspn oil
Cheddar cheese slices as required
Bread Slices as required
Butter as required

Procedure:


1. Follow the procedure of Filling Preparation of Vegetable Roll (Click here for the recipe of Vegetable roll).
2. Take a bread slice, put 2 tblspn of vegetable filling over it, put a cheese slice and cover it with another bread slice. Similarly make other sandwiches.
3. Grease the sandwich maker with butter and put the sandwich on it and turn on the maker.
4. Take out the sandwich from the maker on turning it light golden in color.

Servings:

Delicious vegetable sandwich is ready to serve with ketchup and fries.