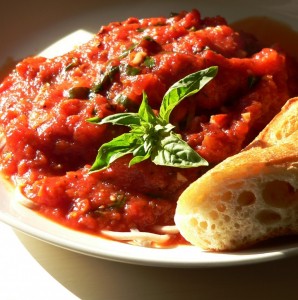 Preparation time : 20 mins. | Serves 1 medium bowl
This Arrabiata Sauce Recipe is one of a famous pasta sauce usually served as a topping of pasta. It is quite resembles with the marinara sauce if you don't include vegetables like capsicum and olive.
Ingredients:
1 tbsp oil
1 tsp crushed garlic
1 medium onion (chopped)
1 medium capsicum (chopped)
¼ cup black or green olives
1 tbsp lemon juice
1 tbsp vinegar
1 tbsp soya sauce
½ cup tomato paste
½ tsp black pepper
1 tsp crushed red pepper
1 tsp sugar
Salt to taste
½ tsp Italian seasoning
¼ cup water
2 tomatoes (remove seeds and cubed)
Procedure:
1. Saute garlic in the oil for just 1-2 mins.
2. Add in chopped onion, capsicum and olives and cook for 2 mins.
3. Now add tomato sauce, soya sauce, lemon juice and vinegar and mix well.
4. Add seasonings including, red pepper, black pepper, salt, sugar and italian seasoning along with water. Let the mix boil.
5. After that add tomatoes, turn the flame high and cook until sauce gets thick and tomatoes blend slightly.
6. remove the pan from heat and serve the delicious Arrabiata sauce with pasta, meatballs or even used as salsa.
photo source : 1