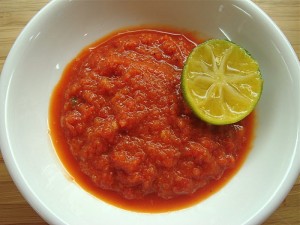 Preparation time : 10 mins.
This chili sauce recipe is from Malaysian cuisine in which bird's eye chilies are used to make it spicy. The sauce has also some seafood flavor due to fish sauce, in some other recipes shrimp sauce is used in place of fish sauce which also tastes good.
Ingredients
400 gm fresh birds eye chilies
200 gm shallots
100 gm garlic
2 tsp fish sauce
2 tbsp lemon juice
50 gm sugar
Salt and pepper to taste
Light soy sauce
½ tsp sugar
Procedure:
1. Remove seeds from the chilies.
2. Blend together chilies, shallots and garlic and make smooth paste.
3. Now add salt, pepper, lemon juice, soy sauce and sugar.
4. Mix all the ingredients, keep in air tight container and place in fridge.