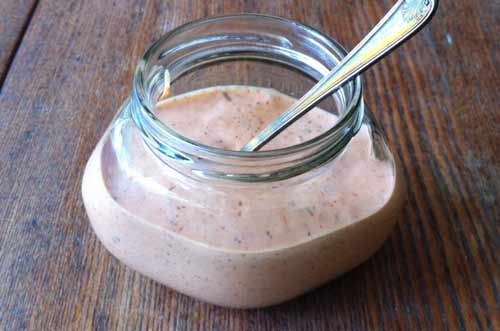 Preparation time: 10 mins. | Yield 1½ cup
This Comeback Sauce Recipe is prepared in Southern style. It is a hot mayonnaise dip usually served with fried snacks like fried chicken strips, shrimp tempura, crispy fried onion rings, etc. It can also be served with grilled food.
Ingredients:
1 cup mayonnaise
¼ cup ketchup
¼ cup chili sauce
1 tsp onion powder
½ tsp garlic powder
2 tsp Worcestershire sauce
1 tsp Creole Seasoning Blend
1 tbsp apple cider vinegar
1 tsp pepper
¼ tsp hot sauce
For Creole Seasoning:
1 tbsp onion powder
1 tbsp garlic powder
1 tbsp oregano
1 tbsp dried basil
¾ tbsp thyme
½ tbsp black pepper
½ tbsp white pepper
1¼ tsp cayenne pepper
1½ tbsp regular paprika
1 tbsp Smokey paprika
1½ tbsp salt
Procedure:
1. To prepare creole seasoning, combine all ingredients of seasoning and keep it in airtight container.
2. Now to prepare Comeback Sauce, in a mixing bowl whisk together mayonnaise, ketchup, chili sauce, Worcestershire sauce, vinegar, and hot sauce and mix well.
3. Add remaining dry ingredients and mix them well, when all the flavors blend well transfer the sauce into the clean and dry airtight jar and refrigerate. You can use it for weeks.