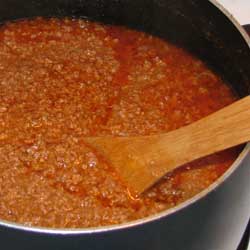 Preparation time : 75 mins.
This meat sauce is usually used as stuffing for hot dogs but can be used for any sandwich or burger filling. The preparation of this hot dog sauce is simple it only takes time in simmering which is the main step of its cooking it can't be cooked on high flame otherwise its taste will not be good.
Ingredients:
3 medium size onions (chopped)
1.5 kg ground meat
½ cup tomato sauce
1 ½ tsp oregano
1 ½ tsp cumin
2 tbsp paprika
2 tbsp chili powder
1 ½ tsp garlic salt
Salt to taste
½ tsp ground cinnamon
Procedure:
1. In a sauce pan, boil chopped onions in 1 cup of water for 5-8 mins.
2. After that add rest of the ingredients except ground beef and cook for 3-5 mins more on medium heat.
3. Then add ground beef and simmer for at least 1 hr.
4. After an hr. when meat completely blend with other ingredients then remove the pan from heat and serve as stuffing of hot dogs.
photo source : 1