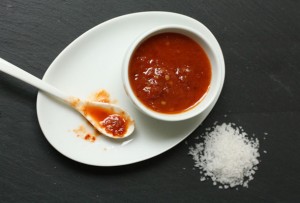 Preparation time : 5 mins. | Serves 1 cup
This peri peri sauce recipe is one of a favorite hot sauces which is used in the preparation of various African recipes including peri peri chicken, peri peri rice, etc. This sauce is much more spicy flavor than other hot sauces just of because of chilies used in the sauce, thats why very little amount of peri peri sauce is used in the food.
Ingredients:
6 peri peri chilies (soaked in water for overnight)
8-10 round, hot chilli pepper (soaked in water for overnight)
2 tbsp crushed red pepper
4 cloves garlic
1 tbsp crushed mustard seeds
1 tbsp fresh green coriander (chopped)
½ cup olive oil
½ cup white vinegar
1 small onion
2 tbsp lemon juice
1 tbsp coarse salt (to taste)
1 tbsp cumin
Pinch of citric acid
Procedure:
Drain all the water from the soaked chilies and put all the ingredients together into the food processor or blender. Process the ingredients and make smooth thick paste, if necessary add water to blend smoothly. Pour the sauce into the air tight jar and then refrigerate. You can use this sauce for weeks.
photo source : 1