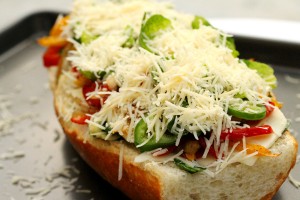 Preparation time : 35 mins. | Serves 8-10 canapes
This Canapes Recipe is prepared with garlic bread and is great substitute of pizza. These canapes are much lighter in taste and easier to make rather than pizza. This recipe is wonderful to serve as any tea time party food.
Ingredients:
Garlic bread slices as required
1 cup chicken boneless (cut into cubes)
2-3 cloves garlic (minced)
3 tbsp oil
1 tbsp soya sauce
½ tsp salt
1 tbsp white vinegar
¼ tsp dried oregano
1 tsp crushed black pepper
1 tsp crushed red pepper
¼ cup spring onions (roughly chopped)
¼ cup bell pepper (roughly chopped)
¼ cup tomatoes (roughly chopped)
½ cup mozzarella cheese (grated)
1/2 cup cheddar cheese (grated)
1 tsp dried oregano
Procedure:
1. Heat oil in a pan, saute garlic for 1-2 mins. add chicken cubes and cook till become white in color.
2. Then add seasoning of soya sauce, red pepper, salt, black pepper and vinegar and cook over medium heat for 10-15 mins.
3. When chicken is done add dried oregano and stir well.
4. Then turn off the heat and add all the chopped veggies and mix well with cooked chicken.
5. Now top each garlic bread slice with 2-3 tbsp of prepared mixture and then sprinkle grated cheeses on top.
6. Place the slices onto the greased baking sheet and bake for 15 mins. in preheated oven at 350 degrees F.
photo source : 1