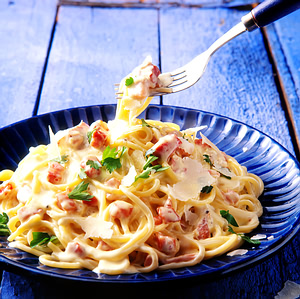 Preparation time : 20 mins. | Serves 4-6 persons
Carbonara is a kind of pasta like spaghetti and is prepared in the same way. In this carbonara recipe chicken is used with little seasoning. You can do variations in this recipe for instance, add some cream with cheddar cheese to make it creamy or add some cayenne pepper to make it spicy.
Ingredients:
1 lb carbonara spaghetti
1 tbsp olive oil
1 cup boneless chicken (cut into strips)
1 medium size onion (chopped)
1 clove garlic (minced)
4 eggs
1/2 cup grated Parmesan cheese
Pinch of salt
Black pepper to taste
1 tsp red pepper flakes
2 tbsp fresh parsley (chopped)
Cheese Slices
Procedure:
Cook carbonara according to instructions mentioned on the package.
In a wok heat oil and sauté onion and garlic in it for 2-3 mins.
Add chicken and cook again on high flame until chicken turns into light brown in color.
Now add beaten eggs and stir continuously so that large lumps of egg may not form.
After 3-4 mins add seasoning including, salt, pepper, red pepper and chicken powder.
Add carbonara and Parmesan cheese in the end and remove the pan from heat after mixing.
Transfer the spaghetti into the platter and sprinkle chopped parsley and cheese slices onto the top.