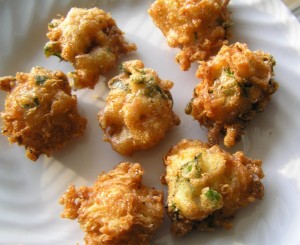 Preparation time : 30 mins. | Serves up to 2 dozen fritters
This Cheese Fritter recipe is prepared with not only cheese but also added some veggies like onion, capsicum, chillies and coriander leaves. The good fritters can only be made when the batter is mixed properly and has perfect consistency neither very thin nor thick, in this manner the fritters would be light and crispy.
Ingredients:
½ cup onion (sliced)
¼ cup fresh coriander leaves (chopped)
3-4 fresh green chilies (chopped)
¼ cup capsicum (chopped)
½ cup grated parmesan cheese (optional)
¾ cup grated cheddar cheese
¼ cup mozzarella cheese
Oil for deep frying
For Batter:
1 cup plain flour
½ cup graham flour (besan)
¼ cup corn flour
1 tsp salt
1 tsp crushed red pepper flakes
1 tsp black pepper
¼ tsp baking soda
1 egg
Cold water as required
Procedure:
1. To prepare batter, combine all ingredients mentioned for batter and make smooth thick paste using cold water.
2. Now add other remaining ingredients including veggies and cheese and mix them well.
3. Heat oil for deep frying in the wok, drop batter into the preheated oil using tablespoon and fry them till become golden brown in color.
4. Serve the hot cheese fritters with ketchup or garlic mayo dip.
photo source : 1