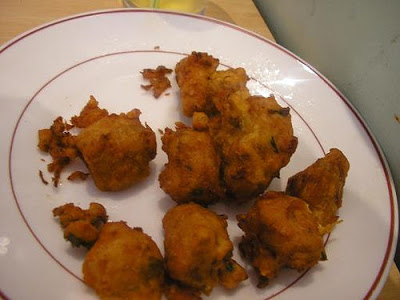 Preparation time : 15 mins | Serves 6-8 persons
This is recipe of chicken pakora one of the famous Ramadan recipe in most of Asian cuisines. It is prepared in very short time and is served as Iftar meal with any chutney or ketchup. This recipe has lots of variations i.e. it can be prepared with fish and vegetables which also tastes wonderful.
Ingredients:
1 chicken breast (make very fine mince)
2 tbspn soya sauce
1 tbspn ginger garlic paste
½ tspn crushed red chili
1 tspn cumin powder
1 tspn black pepper
½ cup graham flour
1 egg
1 tspn baking soda
¼ cup corn flour
Salt to taste
¼ cup coriander leaves
3-4 green chilies
oil for deep frying
Procedure:

1. Take a mixing bowl, and mix chicken mince, ginger garlic paste, red chili, black pepper, soya sauce, salt and cumin.
2. In another bowl, make a smooth batter of graham flour, corn flour, egg, baking soda and pinch of salt. The batter should be thick like any cake batter and if required add water into it.
3. Now mix marinated chicken into the batter and add coriander leaves and green chilies to make a batter for pakora.
4. In a deep frying pan, preheat oil to moderate temperature and then using large spoon or using your hands (as per convenience) pour the batter into the oil in the form of small circles and fry them on medium heat. Stir in between to fry the pakoras evenly and when they become brown take them out from the oil.
5. Serve the delicious hot chicken pakora with ketchup.