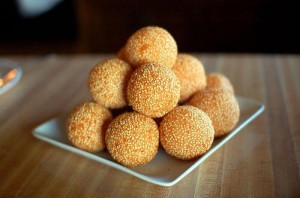 Preparation time : 20 mins. | Serves 12-18 donuts
This recipe of Chinese donuts is prepared by rice flour hence its more crispier than other chines doughnuts. Also in this recipe no more nuts filling is used just sesame and coconut flakes are used for outer covering. The dough is prepared with brown sugar syrup hence it has not much sweet taste.
Ingredients:
1 cup brown sugar
¾ cup hot water
2 cup rice flour
5 tbsp baking powder
3/4 cup coconut (grated)
6 tbsp sesame seeds (roasted)
Oil for frying
Procedure:
1. Dissolve sugar in hot water and set a side to cool.
2. Sift together flour and baking powder.
3. Mix the syrup and flour mixture together to make stiff dough.
4. Divide the dough into small balls of lemon size.
5. Make a mixture of coconut flakes and sesame seeds and roll each ball into this mixture.
6. Heat oil to moderate temperature for deep frying, dip balled in batches and fry till become light golden in color.
photo source : 1