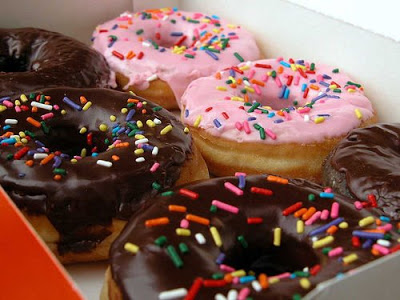 Preparation time : 15mins + 3hrs. | Serves 8 persons
This Dunkin Donuts Recipe is inspired from a very famous baked good outlet Dunkin Donuts. This copycat recipe contains various flavors of donuts including chocolate donuts and vanilla frosting donuts. You can also prepare different flavor of donuts using the same recipe by applying different toppings.
Ingredients:
3 cups plain flour
1 packet yeast (or 1 tbspn)
1 tspn baking powder
1 egg
2 tbspn sugar
Pinch of salt
Milk as required
Oil for deep frying
1. Melted chocolate as required
2. Icing sugar as required
Water as required
3. Colorful chocolate chips
Procedure:

1. To prepare homemade donuts like dunkin donuts, first you need to make solution of yeast, half cup lukewarm water and sugar and leave for 10-15mins.
2. Mix plain flour, salt and baking powder in a bowl.
3. Add beated egg and yeast paste one by one in the flour mixture and mix it.
4. Now knead the dough using milk (make sure both of them are at room temperature).
5. Cover the bowl of dough with gelatin sheet and leave for 3 hrs.
6. After 3hrs when dough rises to double knead it again by using some plain flour over it.
7. Now divide dough in two pieces and roll one of the pieces using wooden roller.
8. Using donut cutter cut the rolled dough into donut shape.
9. Heat oil in the deep pan and fry the donuts on low heat. Take out on turning light brown in color.
10. These are your plain donuts, now in the following steps you will learn how to make different flavors of donuts.
Making Topping for Donuts:
1. To prepare chocolate donuts dip one side of the donut in melted chocolate and place in a tray.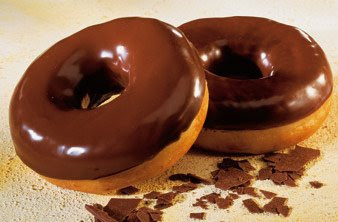 2. Make a thick paste of icing sugar with very little water and dip other donuts in it and put in the tray.

3. To prepare chocolate donuts with sugar sprinkles dip one side of plain donut in the chocolate and then coat the dipped side with colorful chocolate chips.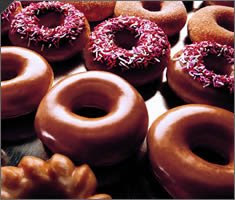 4. Similarly, take a donut, dip one of the sides in the sugar frosting paste and then dip this side in colorful chocolate chips.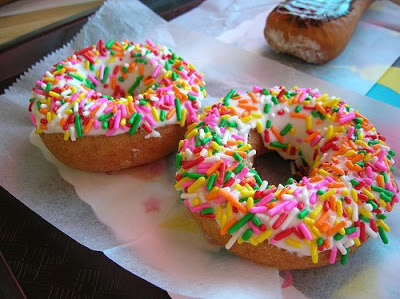 5. Now place the tray of donuts in the fridge for few minutes to set the topping.
6. You can also make different toppings like add some strawberry sauce to the sugar frosting etc.
Servings:

Delicious homemade dunkin donuts with different
toppings
are ready to eat with tea .