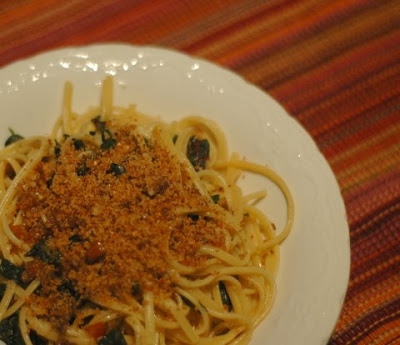 Preparation time : 30 mins | Serves 6 persons
This is another noodles recipe with crumbs mixture. You can add or omit flavors you want while making the crumbs mixture. This is a very quick recipe for snack and is best for children. For making different types of noodle recipes, refer to the book Noodle, which contains 130 recipes made from 20 different type of noodles.

Ingredients :
For Crumbs Mixture :
2/3 cup butter
1 pack unsweetened cracker crumb
1 tspn paprika
2-3 tbspn lemon juice (according to your taste)
3 green chilies finely chopped
1 tbspn soya sauce
Minced fresh coriander as required
3/4 tsp sesame seeds
1/4 tbsp black pepper
For Noodles :
1 pack noodles
Water for boiling noodles
Salt to taste
1 tbsp oil

Procedure :
1. Take a deep sauce pan to boil water. When the water gets boil add noodles, salt and oil into the water and let it cook for -10 mins until spaghetti become soft. After that drain all the water from noodles and add half quantity of butter into the noodles and let it melt.
2. After that in a sauté pan, toss the noodles with butter for just 2 minutes.
3. In another sauté pan, toast crumbs with rest of butter until it becomes golden in color.
4. Now add rest of the ingredients including coriander leaves, sesame seeds, black pepper, paprika, lemon juice, green chilies and soya sauce. Mix all them together and then chop the mixture in food processor so that it become very fine smooth mixture.
5. Now mix crumbs mixture to the noodles and serve it in beautiful platter.