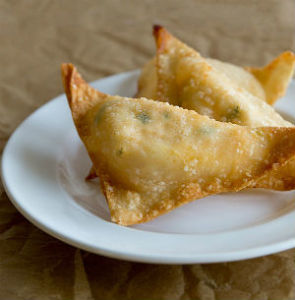 Preparation time: 20 mins. | Serves 12-16 wontons
These Jalapeno Popper Wontons are very tasty, cheesy, and easy-to-prepare appetizers. Since seeds and stems are removed from the jalapeno before adding into the filling, therefore, the flavor is not very spicy. However, if you want to add some spicy flavor you may add some jalapeno seeds.
Ingredients:
1 pack square wonton wrappers
8 oz cream cheese (softened)
4-6 jalapenos (deseeded and finely chopped)
½ cup shredded cheddar cheese
¼ cup fresh parsley (chopped)
Salt to taste
1 egg white
Oil for deep-frying
Procedure:
1. To prepare jalapeno filling, combine cream cheese, cheddar cheese, parsley, and jalapeno and mix well. Add salt according to your taste.
2. Take a square wonton wrapper, put 1 tbsp full of the cream cheese batter at the center, and apply the egg whites using a brush at the edges. Bring together two opposite corners and pinch to make a triangle shape.
3. Heat oil for frying in the wok, add the prepared wontons into the preheated oil and fry for 3-5 mins until become nice golden in color. Keep stirring while frying to give even color.
4. Serve the hot jalapeno popper wontons with ketchup.
photo source : 1