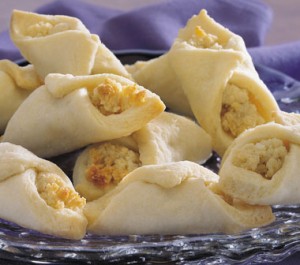 Preparation time : 35 min. | Serves 8 dozen
This nut rolls recipe is prepared with sour cream dough hence are also called sour cream nut rolls. In this recipe almond filling is used which you may replace with other nut like cashews, pistachio, etc.
Ingredients:
For Dough:
2 cup all-purpose flour
1 cup margarine (softened)
2 large egg yolks
½ cup sour cream
For Stuffing:
2½ cup ground almonds
½ cup granulated sugar
¼ cup milk
Procedure:
1. To prepare dough combine flour and margarine in a large mixing bowl and mix well using hands until soft crumbs would form.
2. Beat together egg yolks and sour cream to make uniform batter.
3. Gradually add flour to the sour cream batter and fold it nicely so that soft dough would form and set aside.
4. To prepare almond filling combine all the ingredients of filling and set aside.
5. Now divide dough into two pieces, take one piece and then roll it to rectangular shape of ¼" thickness. Cut it into small squares of 1" to 1.5" size.
6. Put 1 tsp of almond filling onto the center of each square and then seal them by joining the corners.
7. Place them on a greased baking sheet and keep distance between each of them. Bake for 10-15 min in preheated oven at 350 degrees F.
8. After that take them out from oven and let cool to room temperature.
photo source : 1