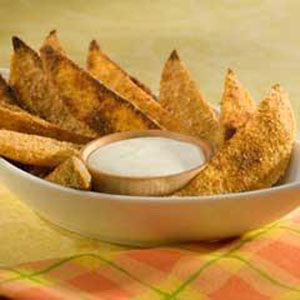 Preparation time : 35 min | Serves 4-6 persons
This potato chips recipe is one of a very simple and quick recipe. It is usually served with Cole slaw, ketchup or with any other dip of your own choice. These potato chips are crispy and crunchy from out side and soft from inside hence become delicious fast food recipe to prepare at home.
Ingredients:
5 large potatoes (cut each potato into 8 wedges with skin)
1 tsp extra-virgin olive oil
½ tsp paprika
¼ tsp salt or to taste
1/8 tsp cayenne pepper
¼ cup fine bread crumbs
2 tbsp grated Parmesan cheese
Procedure:
1. Preheat oven to 400°F.
2. Take a baking sheet and, spread aluminum foil over the whole tray.
3. Now mix potatoes with oil, paprika, bread crumbs, salt and cayenne.
4. Spread them on the baking sheet, sprinkle Parmesan cheese over the whole potato wedges and then place in oven for 25-30 min until become tender and crispy brown from outside.
photo source : 1