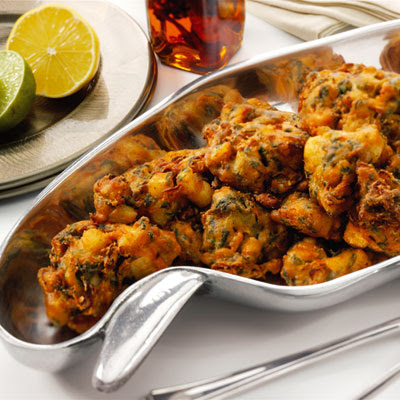 Preparation time 20 mins | Serves 6-8 persons
This vegetable tempura recipe is usually called "vegetable Pakora" in Pakistani cuisine. You may also add other vegetables in this tempura like onions and cabbage. Enjoy this vegetable tempura with ketchup or tamarind chutney.
Ingredients:
3/4 cup graham flour
1 tspn ted chili powder
1/2 tspn turmeric powder
1/2 tspn black pepper powder
1 tspn cumin powder
Salt to taste
1/2 tspn baking soda
1/4 cup spinach (shredded)
1/4 cup spring onion (coarsely chopped)
1/4 cup coriander leaves 9chopped)
4-5 green chilies (chopped)
1 cup cold water
Oil for deep frying
Procedure:
1. In a large mixing bowl, combine graham flour, all the vegetables, baking soda and water. Mix all of them together using you hands only until a thick batter would form. It would take 5 mins.
2. Now add rest of the spices and mix evenly into the vegetable batter.
3. Heat oil in a deep frying pan, pour the vegetable batter into oil in batches using hands or large spoon. The size of the tempura would be small ball of 2 inch. When tempura becomes brown in color, take them out from oil.