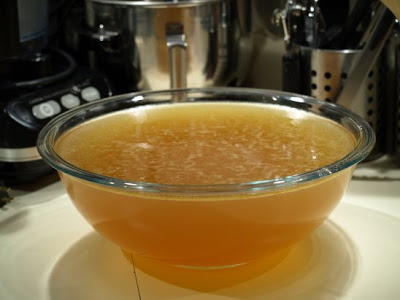 Preparation time : 30mins
Chicken stock is prepared from chicken bones and is very nutritious and full of energy that is why it is also given to patients to re-gain some strength. It has various uses in cooking different foods to give extra chicken flavor like fried rice, any kind of chicken soup, lentils, etc

Ingredients:
½ kg chicken with bones
3-4 garlic cloves
1 tbspn ginger (chopped)
2-3 bay leaves
4 cloves
2-3 cinnamon sticks
3-4 cardamom
Slat to taste
4-5 black pepper corns
6 cups water or as required
Procedure:
1. Take chicken with bones and put it into a deep pan. Add water in it so that water level should 1inch above the chicken pieces, now put few cloves, cardamoms, cinnamon sticks, salt, pepper, bay leaves, garlic cloves and ginger.
2. Cover the pan and let it cook till water completely boils and white layer starts to appear on the top of the stock.
3. Turn off the stove and let it be cooled. After it cools, drain out all the chicken stock/water using drainer.