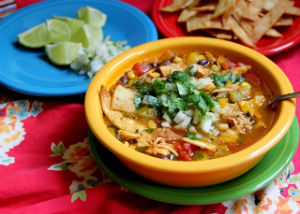 Preparation time: 40 mins. (approx.) | Serves 2-4 persons
This Mexican Chicken Tortilla Soup Recipe is a rich and healthy soup for winter. It includes lots of healthy vegetables and typical Mexican-style spices and seasoning which combine to give delicious soup. You can adjust the level of spice according to your taste.
Ingredients:
2 tbsp butter
2 tsp garlic (minced)
1 boneless chicken breast (cut into thin strips)
½ cup onions (sliced)
1 cup potatoes (diced)
1 cup green capsicum (diced)
1 jalapeno (seeds removed and chopped)
1 tsp paprika
1 tsp ground black pepper
Salt to taste
2 tsp ground cumin
1 tsp onion powder
1 tsp chipotle powder
3 cup chicken broth
1 cup black beans (drained & rinsed)
1 cup corn (drained & rinsed)
1 cup roasted tomatoes with juice (diced)
¼ cup cilantro leaves (chopped)
1 tsp Mexican oregano
4 (6-inch) corn tortillas
For Topping:
Chopped cilantro (optional)
Diced avocado (optional)
Diced onion (optional)
Sour cream
Lime slices (optional)
Shredded jack cheese
Procedure:
1. In a deep saucepan, heat butter, add garlic, and sauté for a few seconds then add chicken strips and cook over high heat for about 2-4 mins. until the chicken turns white.
2. Add onion, capsicum, potatoes, and jalapeno and cook for 2 mins. until veggies become slightly soft.
3. Now add paprika, ground pepper, salt, onion powder, chipotle, and cumin, and cook for 1-2 mins. just mix the seasoning well with all the ingredients.
4. Add chicken broth and bring the mixture to boil over high heat, and then reduce the heat to simmer and cook for 15 mins.
5. Meanwhile prepare tortilla chips, first cut them into 1-inch strips and bake them at 350 degrees F for 10-15 mins. until become crisp.
6. After that, add beans, corn, tomatoes, oregano, and cilantro and simmer for further 5-8 mins.
7. When all the flavors in the soup incorporate well with each other and give a balanced flavor, then remove the pan from heat and pour the soup into the serving bowl.
8. Serve the hot Mexican Chicken Tortilla soup with a topping of tortilla chips, and a dollop of sour cream, cheese, and veggies mentioned for garnishing.
photo source : 1