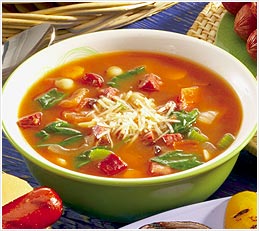 Preparation time : 20 min. | Serves 4 persons
This Minestrone soup recipe is one of an easy soup recipe if you have canned veggies otherwise to make full fledge healthy soup with fresh veggies would require little bit of more time to tender the veggies. The veggies you can use in this soup are spinach, carrot, bell peppers and like that.
Ingredients:
1 cup onion (chopped)
3 cloves garlic (sliced)
2 tbsp olive oil
3 cup chicken broth
16 oz marinara sauce
15 oz red kidney beans (drained and rinsed)
3 strips celery (sliced)
10 oz frozen mixed vegetables
1 cup macaroni
Grated Parmesan cheese
Salt to taste
Procedure:
1. Heat oil in a soup pot and cook onion and garlic for just 2-3 min over medium-high heat.
2. Then add chicken broth, marinara sauce, kidney beans, celery and frozen mixed vegetables and let the mixture boils.
3. Then add macaroni and salt reduce the heat to simmer, cover the lid and cook for 10-12 min. till macaroni tender completely.
4. When the sauce gets the texture just like soup, take it out in serving bowl and serve hot Minestrone soup with topping of Parmesan cheese.
photo source : 1