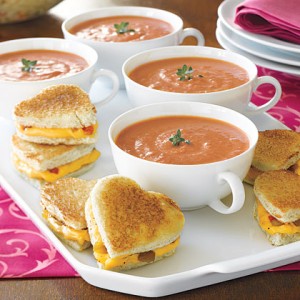 Preparation time : 60 min } Serves 4 persons
Tomato soup is a very healthy soup that is best for almost everyone. To make this soup attractive and more delicious specially for kids, it is also prepared with milk and cream. This recipe for cream of tomato soup is quite easy to prepare at home as it only takes time in cooking while the method is very simple you can make it tastier if you add some optional BBQ sauce while serving.
Ingredients:
2 lb fresh tomatoes (chopped)
2 chicken bouillon cubes
1 cup of water
1 cup of milk
2 oz cream
¼ cup onion (chopped)
1 tsp brown sugar
1 tsp white sugar
2 oz salted butter
¼ tsp salt
¼ tsp black pepper
¼ tsp thyme
¼ tsp oregano
Procedure:
1. In a soup pot combine all the ingredients except milk and cream and cook over medium heat for 40-50 min.
2. After that cool it to room temperature then process it in blender to make smooth paste.
3. Then cook with milk and cream for just 10 min over low heat and serve in bowl with topping of parsley.
photo source : 1