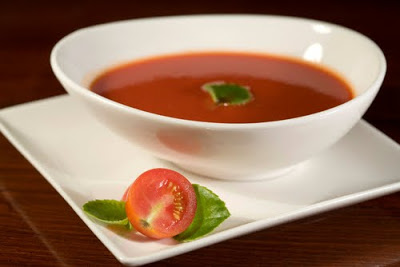 Preparation time : 90 mins. | Serves 6 persons
This is a typical tomato soup recipe which requires a bit more time than other soup recipes just because tomatoes are to be made completely tender so that all the flavors are mixed well in the soup. You may serve this soup both hot and cold.
Ingredient:
1 1/2 kg ripe plum tomatoes (cut in large pieces)
1/2 cup olive oil
1 tbsp kosher salt
1 1/2 tsp ground black pepper
2 onions onions (chopped)
6 garlic cloves (finely chopped)
2 tbsp unsalted butter
1/4 tsp red pepper flakes
28 oz canned plum tomatoes (with juice)
4 cups basil leaves
1 tsp thyme leaves
1 ltr chicken stock
Procedure:
1. Preheat the oven to 400 degrees.
2. Combine tomatoes, 1/4 cup olive oil, salt, and pepper in a mixing bowl.
3. Take a baking tray and spread the above tomatoes on it and place in oven for 45 mins.
4. Take a deep sauce pan, heat butter and 2 tbsp of olive oil, saute the onions and garlic in it.
5. when the onions become soft add red pepper flakes and saute again for 1-2 mins, until the onions start to brown.
6. Now add canned tomatoes, basil, thyme, oven-roasted tomatoes and chicken stock and let it the mixture cook on medium heat until it starts ti boil
7. Then reduce he flame to low and cook for further 30-40 mins.
8. After that blend the soup in mixer and then pour it in a bowl. Strain the soup if you want fine consistency.