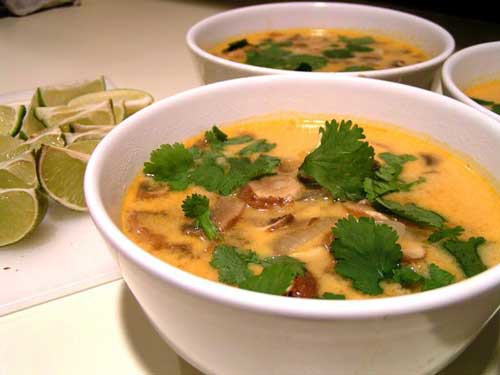 Preparation time : 30 mins. | Serves 4-6 persons
This Tom Kha Gai Soup Recipe is also knows as Thai Coconut Chicken Soup outside Thailand. It is prepared in chicken curry style fashion, but addition of coconut in the milk make it soup like texture. It is usually served with traditional yellow rice.
Ingredients:
3 tbsp vegetable oil
2 tbsp Thai curry paste
1 tbsp ginger (minced)
1 tbsp garlic (minced)
1 medium onion (chopped)
1 lb boneless chicken (cubed)
½ cup chicken stock
2 stalk lemon grass
1 lb mushrooms (sliced)
2 tbsp fish sauce
¼ cup limejuice
Salt to taste
Fresh coriander/cilantro leaves chopped for garnishing
Procedure:
1. To prepare the Thai coconut chicken soup recipe, heat oil in a deep saucepan, add curry paste and cook for 2-4 mins. until oil is separated from the curry.
2. Add ginger, garlic and onion and cook for 2 mins more, then add chicken cubes and cook over high heat for 2-3 mins. until chicken turns into white.
3. Now add lemon grass and chicken stock and simmer for 5 mins.
4. Add mushroom slices and simmer again for 10 mins. until chicken and mushrooms are cooked well.
5. After that add coconut milk, fish sauce, limejuice and salt and simmer for 5-10 mins. until soup starts bubbling and becomes slightly thick.
6. Remove the pan from heat, pour the hot Tom Kha Gai Soup with topping of fresh coriander leaves.
photo source : 1