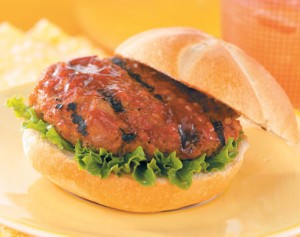 Preparation time : 30 min. | Serves 4 burgers
This turkey burger recipe can be easily prepared at home, to make good patties you have to use extra leaned ground turkey so that patty would not break while grilling. You may adjust the flavors of seasoning according to your taste.
Ingredients:
2 lb ground turkey breast (leaned properly)
1 tbsp olive oil
¼ cup whole wheat bread crumbs
2 cloves garlic (minced)
1 ½ tbsp Worcestershire sauce
1 tsp Tabasco sauce
½ tbsp onion powder
1 tsp smoked paprika
1 tbsp dried parsley
Salt and pepper to taste
Procedure:
1. In a mixing bowl combine all the ingredients for marination including olive oil, bread crumbs, garlic, Worcestershire sauce, Tabasco, onion powder, paprika, parsley and salt and pepper.
2. Now marinate ground turkey in the mixture and leave for at least 15 min.
3. After that start making patties according to the size of burger, the thickness of patties should be ¼ inch thick. If you feel difficult to handle the mixture while making patty you may add bread crumbs accordingly.
4. Heat the grill pan with 1-2 tbsp of oil and grill each patty from both sides until become golden brown, it would take 5-8 min for each patty to grill.
5. Toast each burger on skillet with little quantity of butter for just 1-2 min, make sure that burger would not turn into brown color.
6. After that assemble the patties in burger with lettuce leaves, tomato slices and ketchup before serving.
photo source : 1