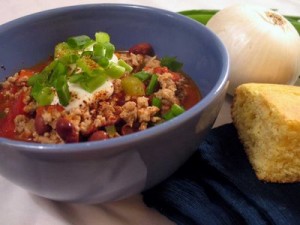 Preparation time : 50 min. | Serves 6 persons
This turkey chili recipe is prepared with beans, pepper, corns and tomatoes. This would give great taste if it is cooked in slow cooker or Dutch oven as all the flavors blend well in that case and give wonderful flavor. You may also serve this turkey chili with topping of cheese.
Ingredients:
1 ½ lb ground turkey
1 green bell pepper (chopped)
2 cup fresh black beans
3 cup fresh tomatoes (chopped)
1 cup whole kernel corn (boiled or frozen)
1 tsp ground cumin
1 tsp chili powder
½ tsp red pepper flakes
¼ tsp ground cinnamon
Salt to taste
¼ cup vegetable oil
Procedure:
1. Cook ground turkey and bell pepper in oil until turkey becomes dry and turn into brown in color.
2. Now add beans, tomatoes, corn and spices and let the mixture to boil with 4 cup of water.
3. After that simmer the mixture until thick gravy would form and veggies become tender. It would take 30-40 min.
4. Serve the hot turkey chili with tortillas or French bread.
photo source : 1