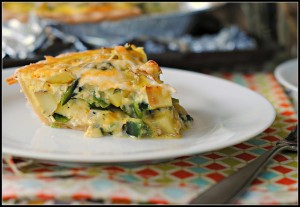 Preparation time : 90 mins. (approx.) | Serves 8 persons
This potato quiche recipe is little bit spicy just because of poblanos which is one of a mild pepper but the taste is great. In this particular quiche recipe no more meat is used and is totally prepared with veggies with topping of some cheese.
Ingredients:
For Crust:
2½ cup bisquick mix
6 tbsp margarine
¼ cup boiling water
For Filling:
1 tbsp olive oil
1½ cups frozen diced hash brown potatoes (thawed)
4 poblanos or large green chilies (roasted)
½ cup diced onion
3 medium green onions (sliced)
5 eggs
¾ cup half-and-half
¼ tsp freshly ground pepper
Salt to taste
1½ cup shredded sharp cheddar cheese
Procedure:
1. Preheat oven to 350°F.
2. In a large mixing bowl combine margarine and bisquick mix and mix well using hands or pastry blender. When soft crumbs are formed add in boiling water and stir gently to mix till soft dough would form.
3. Transfer the dough onto the greased pie dish of suitable size and press the dough forming edge on rim of plate.
4. Now sprinkle potatoes, onions, roasted poblanos and green onions onto the crust.
5. In medium bowl, beat together eggs, half-and-half, salt and pepper until well blended.
6. Pour this mixture evenly onto the veggies and then top with cheese.
7. Bake for at least an hour until knife inserted in the center comes out clean and then cool it to room temperature to set.
8. Serve the yummy potato quiche with sour cream dip.
photo source : 1