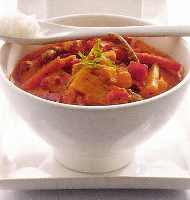 Preparation time : 30 mins | Serves : 4 persons
This is one of the methods used in making Thai curry. In this Thai curry recipe, only vegetables are used. You can add your favorite vegtables as you like. Usually this curry recipe contains either chicken or fish but here I have only used veggies which also give a very pleasant tase to this thai curry and also quite healthy for everyone. For people who dont like spices, it is advised to reduce the qauntity of red chili in this recipe.
Ingredients:

3 medium size onion (julienne)
3-4 garlic cloves (finely chopped)
1/2 cup capsicum (cut in small cubes)
1/4 cup peas
1/2 cup potato (cut in small cubes)
1/2 cup carrot (julienne)
1/4 cup cabbage (julienne)
1/2 cup thai curry paste
1 tspn crushed red chili powder
1 tspn crushed black pepper
Salt to taste
2 cup chicken stock
3 tbspn cornstarch
1/2 cup vegetable oil

Procedure:

1. In a large sauce pan, fry onions in the given quantity of oil on medium flame. Fry for at least 8 minutes until become light golden in color.
2. Now add garlic, curry paste and quarter cup water and let them cook for 4-5 minutes on low heat.
3. After that add veggies including capsicum, peas, potato, carrots and cabbage with black pepper, salt, stock and red pepper. Cook them together for at least 15 minutes so that they become tender.
4. In the end, add cornstarch to make gravy little denser. The quantity of cornstarch depends upon how much dense gravy you want. Cook veggies with corn starch for just 2 minutes.
5. Turn off the flame, and it is better to serve the delicious Thai curry in a sizzling dish.