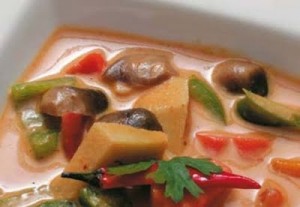 Preparation time : 30 mins. | Serves 4 persons
This Thai Vegetable Curry Recipe is one of a easy vegetable recipe which can be prepared for lunch easily. The curry has yummy flavor of coconut milk along with typical thai curry paste and veggies. You may also add mushrooms, broccoli and any other vegetable of your choice to this recipe to make it more rich.
Ingredients:
2 tbsp oil
1½ tbsp red curry paste or thai curry paste
½ cup vegetable stock
1 cup coconut milk
1 cup peas
1 eggplant (cubed)
½ cup carrots (julienne)
½ cup baby corn (cut lengthwise)
½ cup pineapple chunks
8-10 cherry tomatoes
2 tbsp lemon juice
1 tbsp soy sauce
½ tbsp fish sauce
1 tbsp brown sugar
2 red chili
Procedure:
1. Heat oil in a saucepan, cook curry paste over medium heat for just 2-3 min until fragrant.
2. Add the coconut milk and vegetable stock and let it boil over medium heat.
3. Then add veggies including peas, carrots, eggplant and corn and cook for 5 mins.
4. Now add the pineapple, red chili, tomatoes, lemon juice, soy sauce, fish sauce and brown sugar and simmer for 5 mins till veggies get tender or soft.
5. Serve the hot thai vegetable curry with boiled rice.
photo source : 1