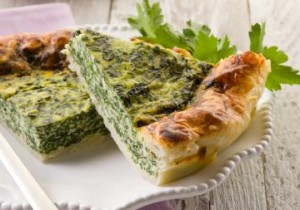 Preparation time : 60 mins. + 1 hr. Dough Resting time | Serves 8 pieces
This Torta Di Spinaci recipe is an Italian style spinach pie which is prepared with ricotta, parmesan and egg. In this recipe you may also use heavy cream in place of ricotta to make it creamy like texture. Adding nuts and raisins also make the pie rich and tasty.
Ingredients:
For Crust:
2 cup all purpose flour
½ cup unsalted butter
½ tsp salt
1 egg yolk
3 tbsp milk
For Filling:
10 oz spinach (blanched, drained and chopped)
3 whole eggs, beaten
1 cup ricotta cheese
½ cup grated Parmesan cheese
Salt and pepper to taste
Procedure:
1. To prepare crust, in a mixing bowl of your dough mixer add flour, butter and salt and process to make course meal like mixture.
2. Whisk together milk and egg yolk and add it to the crumbs mixture to knead the dough.
3. When the dough forms a ball around the blade, stop the mixer, shape it into a smooth ball and put into the mixing bowl. Refrigerate the dough for at least an hour by wrapping the bowl with plastic sheet.
4. Meanwhile prepare filling, for that combine together egg whites, ricotta, parmesan, salt and pepper and make smooth batter. Then fold the batter with spinach.
5. Now roll the dough using excess flour dust onto the counter according to the size of your pie dish, make sure that the rolled dough should be at least 1" larger than the pie dish.
7. Grease and dust the pie dish with flour and lined the pastry dough, trim the excess dough from the edges and then pour the prepared filling onto the crust.
8. Preheat oven for 350 degrees F and bake for around 40 mins. or till become golden from top.
9. Serve the Torta Di Spinaci either warm or cold.
photo source : 1