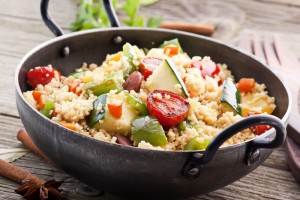 Preparation time : 20 mins. | Serves 6 persons
This Vegetable Paella Recipe is prepared with couscous instead of typical rice and is also known as vegetable couscous. In this recipe lots of fresh veggies are used which you can adjust according to the availability. You may also prepare this recipe in the form of thick gravy like by adding tomato sauce in the recipe and cook couscous along with veggies and broth.
Ingredients:
2 tbsp olive oil
1 large onion (chopped)
2 cloves garlic, minced
1½ tsp paprika
¼ tsp cayenne pepper
Salt to taste
2 cup white cabbage (chopped)
1 medium red pepper (chopped)
1 medium green pepper (chopped)
3 cherry tomatoes (halved)
1 cup frozen peas
1 cup chick peas (drained)
2 carrot peeled and finely chopped
¼ cup green or black olives with pimentos
1 cup zucchini (cubed)
2 cup vegetable broth
1½ cup couscous
1 lemon (cut into thin wedges)
1 tbsp fresh parsley (chopped)
Procedure:
1. Heat oil in a heavy saucepan, saute onion for just 1-2 min. to make it soft.
2. Add in garlic, paprika, cayenne and salt and cook over high heat for 2 mins.
3. Now add veggies including cabbage, red and green pepper, tomatoes, peas, carrot, olives and chickpea and stir well to cook for 5-10 mins. till veggies tender completely but should not burn or become too soft.
4. After that remove the pan from heat. Boil vegetable broth and soak couscous in it for about 5 mins.
5. To serve the healthy vegetable paella, combine couscous with fried veggies and garnish with lemon wedges and fresh parsley.
photo source : 1