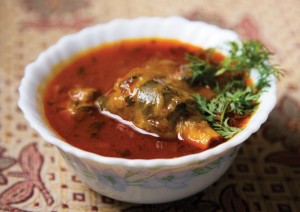 Preparation time : 2.5 hrs. (approx.) | Serves 4-6 persons
This paya recipe is another delicious spicy and no doubt a healthy soup recipe from Pakistani cuisine where it is usually prepared in winter. This same recipe can be applied for beef paya but in that case the cooking time gets double but taste more delicious as beef paya contains more fat.
Ingredients:
4 beef or mutton paya (cleaned properly)
1½ tbsp ginger paste
1½ tbsp garlic paste
3 medium onion (boiled and blended)
2 cinnamon sticks
4 cloves
3 green cardamoms
2 black cardamoms
2 bay leaves
2 tbsp red chili powder
Salt to taste
1 tsp turmeric powder
1 tbsp cumin powder
1 tsp black pepper powder
1 tsp garam masala powder
¼ tsp nutmeg and mace powder
1 cup oil
½ cup fried onions (finely crushed)
Fresh coriander chopped, fresh green chilies chopped and lemon slices for serving
Procedure:
1. Take a deep saucepan, add in paya along with 8-10 glasses of water, 1 tbsp ginger paste and 1 tbsp garlic paste so that water level should be 2-3 inches above the paya pieces. Let the soup bring to boil over high heat then reduce the flame to low and let it cook for 1-2 hrs. until it tenders completely.
2. Meanwhile to prepare gravy, fry cinnamon, cloves, bay leaves and cardamoms in oil, then add remaining ginger garlic paste, onion paste, red chili powder, turmeric powder and salt. Cook it over medium heat until oil starts to appear on the surface, stir continuously to avoid sticking gravy at the bottom.
3. When all of the paya gets tender, add the prepared gravy paste into it along with fried onions, cumin powder, black pepper, garam masala and nutmeg and mace. if necessary add salt accordingly, now stir well and let it cook for at least 15 mins.
4. When the gravy gets slightly denser or according to your requirement then remove the pan from heat, pour it into the serving bowl and serve it with fresh coriander, green chilies, lemon slices and hot naan.
photo source : 1