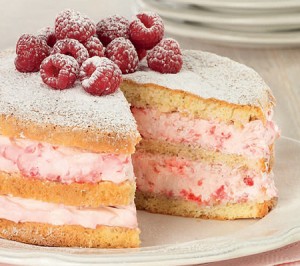 Preparation time : 50 mins. | Serves 6 persons
Genoise Cake is a famous sponge cake originated from Italian and French cuisine. In typical Genoise recipes egg yolks are used in larger quantity as compare to egg whites which makes the cake yellow. But in most of today's recipes melted butter or margarine is used in the end in place of extra yolks. You can easily prepare different flavor of Genoise Cream cake by replacing raspberries with your favorite fruit like strawberries.
Ingredients:
For Sponge:
4 eggs
8 tbsp caster sugar
⅔ cup all-purpose flour
2 oz margarine (melted)
1 tsp vanilla extract
For Filling:
2 cup whipping cream
¼ cup raspberries (whole)
½ cup raspberries (chopped)
2 tbsp icing sugar

Procedure:
1. In your stand mixer bowl, beat eggs and caster sugar for around 8-10 mins. until become thick, creamy and fluffy.
2. Now remove the bowl from stand and set aside to reduce its temperature to normal.
3. Add the sifted flour, vanilla and melted butter (at room temperature) and fold it with light hands using spatula.
4. When the mixture gets smooth, pour it into the greased round baking pan and place it in preheated oven at 350 degrees F for 20 mins.
5. When the cake become nice light golden take it out from oven and turn upside down to cool.
6. Meanwhile beat the whipping cream with icing sugar till become thicker and then mix it with chopped raspberries.
7. Split the cake into two pieces (make three for larger cakes), spread the bottom piece surface with half of the whipped cream mixture, then cover with the other sponge. Place whole raspberries on top surface and then sprinkle the icing sugar.
photo source : 1