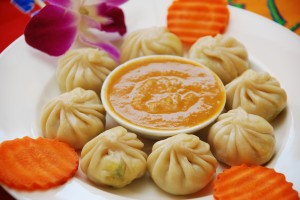 Preparation time : 30 mins. | Serves 10-12 momos
This chicken momos recipe is taken from North Indian and Chinese cuisine, it is actually dumplings which is filled with chicken and vegetable stuffing. These dumplings are then steamed, so it would be the wonderful healthy snack item for those who love to eat fried dumplings (samosas) but couldn't take due to health issues.
Ingredients:
For Wraps:
¾ cup all purpose flour
Salt to taste
Water as required
For Stuffing:
½ lb. minced chicken
½ tsp soy sauce
½ tsp garlic (finely chopped)
1 tbsp green chilli (finely chopped)
1 tsp ginger (finely chopped)
1 tbsp finely chopped spring onion
1 tsp finely chopped fresh coriander
Salt to taste
Procedure:
1. To prepare wraps, knead the smooth soft dough using flour, salt and water. Grease it with oil then cover with damp cloth and set aside.
2. Now prepare stuffing by mixing the ingredients mentioned for stuffing and set aside.
3. After that, roll out the dough to make it thin and flat as much as you can, then take the round shape cookie cutter of 3" size and make circles as much as possible.
4. Then spoon 1-2 tbsp of prepared filling to the center of the each circle. In order to seal the stuffing, bring all the edges of a circle together into the center and make twist to give it nice whirl like pattern. To learn how to wrap the momos easily, watch the video below:
5. Place all the prepared wraps onto the greased steamer and cover it to cook for 10-15 mins.
6. Serve the hot chicken momos with ketchup or your favorite dip.
photo source : 1