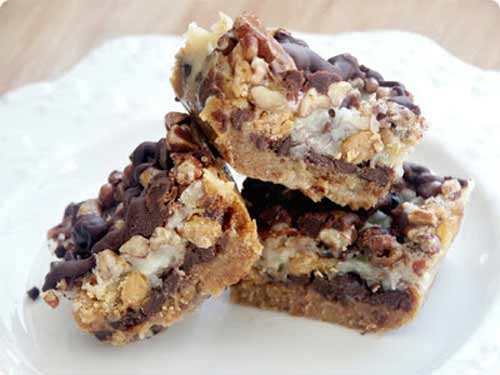 Preparation time: 35 mins. | Serves 20-24 bars
This 7-Layer Bars Recipe is one of the yummy cookie bars prepared with lots of flavors. It is made with layers of butter, crumbs, chocolate chips, butterscotch, coconut, condensed milk, and nuts. It can be served as it is or I personally like it warm with a dollop of cool whip.
Ingredients:
1 stick unsalted butter (melted)
1 cup graham cracker crumbs
1 cup semi-sweet chocolate chips
1 cup butterscotch chips
1 cup pecans (Coarsely chopped)
1 cup shredded coconut
12 oz sweetened condensed milk
Procedure:
1. Take a deep rectangular baking dish, pour melted butter into the dish, and spread it evenly.
2. Spread graham cracker crumbs over the melted butter layer and slightly press the crumbs to make a firm layer.
3. Now sprinkle the shredded coconuts over the crumbs layer, and then one by one make layers of butterscotch and chocolate chips.
4. After that, drizzle the whole can of condensed milk over the chocolate chips layer, and in the end sprinkle chopped pecans on top.
5. Bake in preheated oven at 350 degrees F for 20-30 mins. until becomes golden brown from the top.
6. When it is done, cool it to room temperature and then cut it into square pieces, 7 Layer bars are now ready to serve.
photo source : 1