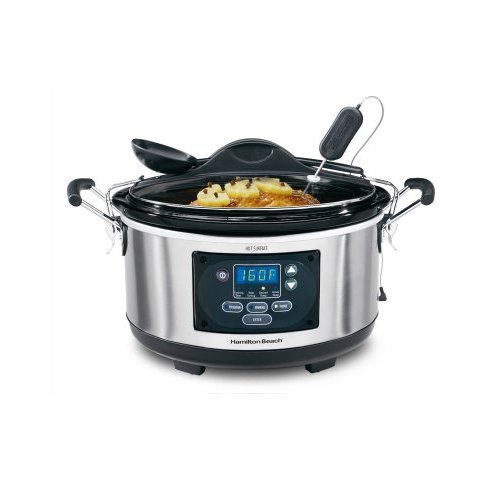 [asa]B001AO2PXK[/asa]
Today we decided to give a shot at slow cookers to bring to you the best slow cooker available in market. This review is only for programmable slow cooker although you can easily get a non-programmable slow cooker for a very low price usually $20 to $30.
After going though a lot of consumer reports and reviews we found the Hamilton Beach 6 Quart Programmable slow cooker the best slow cooker among all. The reason why it ranks so high is because of a lot of reasons. First comes its appearance and main body. This programmable slow cooker has an oval shaped stoneware pot that has 6 Quart capacity and is also dishwasher safe. This is a lot of space for making food for a large family or even a dinner party. The base is electric which is also stainless steel from outside and that makes it very elegant looking and easy to clean. It has also got two reasonable size handles for carrying your slow cooker around. It also has rubber feet for keeping the cooker firmly and safely on countertop. The top lid also had a gasket for sealing plus it also has locking clips for further tightening the lid. This unit also comes with a clip-on spoon that rests still 0n cooker top.
Now comes the important part where we shed some light on the features of the products in review. Since this is a programmable slow cooker lets have a look at time programming feature. It has three automatic cooking options. The first one is to program your meal timings. This features is for those who know exactly what they are doing as you do not want to overcook your meal or leave it uncooked when returning from a tiring work schedule. The second is the manual cooking or probe cooking. This slow cooker comes with a temperature probe that goes through the lid right into the food to know its internal temperature. The third one is the keep-warm setting where your food is ready and is not to be served so you just keep the cooker on this setting and this programmable slow cooker will keep your food warm all the time.

Another interesting yet great feature of this slow cooker is that it retains its settings in its memory so in case of a temporary power failure, all your settings are saved and when the power is back, it continues exactly from the point it stopped by automatically measuring the temperature. This feature definitely makes this the best slow cooker which you will found very handy when you arrive home from work to find that your warm meal is ready in your cooker and you just have have to take it out and have it served.
This Programmable slow cooker by Hamilton Beach can be purchased from Amazon (with FREE shipping) at a 20% discount price. You can also browse the list of Best Selling Slow Cookers which is updated every hour each day.