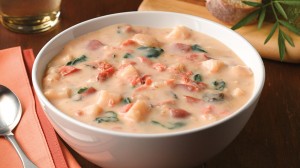 Preparation time: 30 mins. | Serves 4 persons
This Smoked Salmon Chowder is prepared with smoked salmon, vegetables, herbs, and cheese flavor. It's an all-in-one meal that contains all the nutritional essentials. Chowders are usually served with saltine crackers.
Ingredients:
2 tbsp butter
6 oz smoked salmon
2-3 spring onions (chopped)
2 cloves garlic (crushed)
1-2 small bay leaves
1 tbsp flour
5 cup chicken stock
1½ cup milk
¼ tsp white pepper
¼ tsp black pepper
¼ cup potato (cooked and diced)
¼ cup cooked carrot (diced )
¼ cup sweet corn kernels (cooked)
¼ cup green peas (cooked)
¼ cup of parmesan cheese
¼ cup cheddar cheese
Pinch of dried oregano
Pinch of dried basil
1 tbsp chopped fresh coriander
Procedure:
1. In a saucepan, heat butter and saute bay leaf, spring onions, and garlic for just 1-2 mins. until fragrant.
2. Add flour and stir to coat well. Then add stock and whisk simultaneously to make an even mixture. Cook it over medium heat until the mixture gets boiled and starts to thick.
3. Now add salmon (make flakes or cut into bit size) and simmer for 2-3 mins.
4. After that add milk, white pepper, vegetables, and herbs and simmer again for 5 mins.
5. Turn off the heat add cheese and cover the lid so that the cheese melts completely.
6. Serve the hot creamy Smoked Salmon Chowder with saltine crackers.
photo source : 1