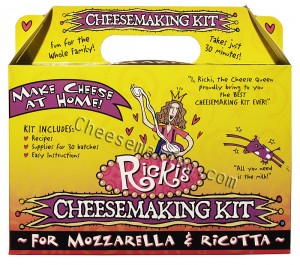 [asa]B00014EGWI[/asa]
Making cheese at home cannot get easier with this 30 minute cheese making kit. If you are fond of making your own cheese at home and have hard time finding the best ingredients for it then chances are that you would love to have at least one such kit. It is a cheese kit by no other than the Cheese Queen from Cheesemaking.com. Continue reading below to learn more about how easily you can make cheese with this cheese kit.
This cheese making kit includes:
1 x dairy thermometer
1 x butter muslin
1 x bottle citric acid
1 x bottle cheese salt
1 x bottle vegetable rennet tablets
1 x recipe booklet
This is a 30 minute cheese making kit which means you can create each batch of cheese in just 30 minutes time. The cheese kit has all the ingredients you will need to make perfect mozzarella and ricotta cheese at home. This entire kit will make up to 40 x 1 lb cheese batches or simply 40 lbs plus you get all the fun in making your own cheese.
This cheese making kit can be stored at room temperatures but to prolong its life, it is advised to keep them in a cool and dry place or ideally in your refrigerator. Currently there are not many options out there when it comes to cheese kits but this 30 mins kit is simple the best cheese making kit you can get for the price. Just make sure you only use organic milk from the local market if you want optimum results.
Where To Buy ?
The 30 Min Cheese making kit is available at Amazon.com (with FAST shipping) at a special discount price. You can also browse the list of other best selling cheese making tools and kits. The list is updated every hour.