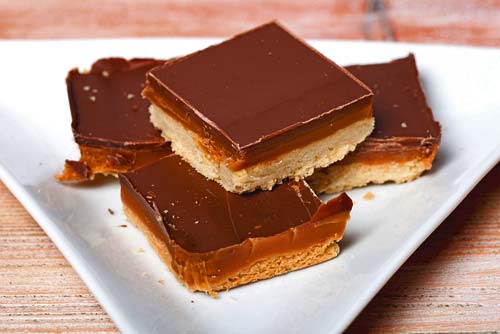 Preparation time: 60 mins. (approx.) | Refrigeration time
This Chocolate Caramel Shortbread Recipe is prepared with three different flavors shortbread, caramel, and chocolate. All the flavors are stacked in three layers so that you can equally enjoy them. You may also top these bars with cream or may use some nuts inside the chocolate topping to make it richer in taste.
Ingredients:
For Shortbread:
9 oz flour
6 oz butter
3 oz caster sugar
For Caramel:
397g tin condensed milk
2 tablespoons golden syrup
60g caster sugar
120g butter
For Chocolate Topping:
6 oz milk chocolate (melted)
Procedure:
1. To prepare shortbread, cream together butter and sugar using an electric beater.
2. After that add sifted flour and mix using a spatula till the batter becomes uniform.
3. Spread this batter into the greased and dusted rectangular pan (11×7-inch). Level the batter layer by pressing the batter firmly and making it even from the top using the back of a spoon.
4. Bake in preheated oven at 350 degrees F for 20 mins. or until the toothpick inserted from the center comes out clean.
5. Meanwhile shortbread is baking, prepare caramel syrup for the bars, for that you need to combine all the ingredients of caramel sauce and cook over medium-low heat for 15-20 mins. Keep stirring in between so that the mixture would not burn and the caramel gets an even golden color.
6. When the caramel is ready to cool it to room temperature.
7. Now apply the caramel layer onto the prepared shortbread layer and then refrigerate for 10-15 mins. until it sets nicely.
8. After that make a layer of melted chocolate on top and refrigerate it again to set the bars.
9. When all the layers get firm and set nicely, cut the caramel chocolate shortbread into bars.
photo source : 1