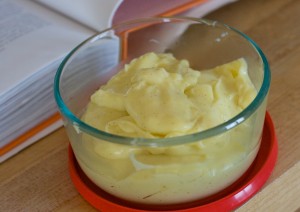 Preparation time : 20 mins. | Serves 1 cup
This Vanilla Pastry Cream Recipe is one of a common frosting that is used in various baking items. It is usually used as cake filling and topping, éclair filling, cream puff filling, etc. You can add different flavors to this frosting like chocolate chips or coconut.
Ingredients:
1¼ cup milk
1 tsp pure vanilla extract
3 large egg yolks
¼ cup granulated sugar
2 tbsp all-purpose flour
2 tbsp cornst flour
Procedure:
1. Take a medium mixing bowl and combine together egg yolks and sugar.
2. Add in flour and corn flour and beat to make smooth paste.
3. Heat milk with vanilla extract until it just reach boiling point when foam appears on the surface. At that point remove the pan from heat and slowly add it to the egg mixture. Stir continuously while mixing so that no more lumps would form otherwise, you will need to pass the mixture through strainer to get smooth batter.
4. Now cook the mixture over medium heat until it starts boiling, stir constantly while cooking.
5. After that stir the mixture over heat until it gets thick like custard.
6. Then immediately remove it from heat, pour the cream into the bowl and cover instantly to avoid forming crust. When it cools to room temperature and use where ever you want or keep it in fridge, it can be used up to 3 days.
photo source : 1