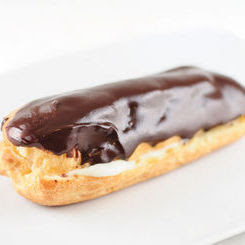 Preparation time : 45 mins. | Serves 10 eclairs
Eclairs are the one of the most favorite baking item around the world and is mostly available in two flavors; vanilla and chocolate. The two variations just differ in filling in chocolate eclairs chocolate cream filling is used and simple pastry cream is used for vanilla flavor.
Ingredients:
For Dough:
3/4 cup water
1/2 cup butter
1 cup flour
5 eggs
Pinch of salt
For Pastry Cream:
2 cup cream
250 gm icing sugar
For Chocolate Topping:
1/4 cup butter
150 gm cooking chocolate
Procedure:
1. Preheat oven at 375 degrees F.
2. In a sauce pan put water and butter and let the butter to melt completely on medium heat.
3. Mix salt in flour and then add it to the butter water mixture. Stir continuously so that flour would absorb all the water and should not stick to the pan.
4. Now remove the pan from heat, add vanilla and one egg yolk to the flour mixture, mix it well using spoon.
5. When the yolk completely mixes into the mixture add rest of the yolks at once and mix them well in the flour mixture, a thick batter would form.
6. Take a piping bag and fill the batter into this bag, fix the wide circular tip at the opening so that batter would come out easily. On a wax paper squeeze the batter using tube in lengthwise direction i.e. 8-10 cm long. keep at least 1 in. distance between each droplet.
7. Place the sheet in preheated oven for 25-30 mins. until become light golden from top and when insert a knife edge it would come out clean.
Preparation of Chocolate Sauce and Pastry Cream:
1. Melt butter and chocolate together in a pan and make a thick paste.
2. To prepare pastry cream beat cream and icing sugar together until become thick in texture and then place in fridge.
Preparation of Eclairs:
1. When the eclairs have been baked cool them to room temperature and then cut from the center in lengthwise direction so that it would open like book.
2. Now fill the eclairs with pastry cream and then make topping of chocolate sauce. Delicious eclairs are ready to serve.