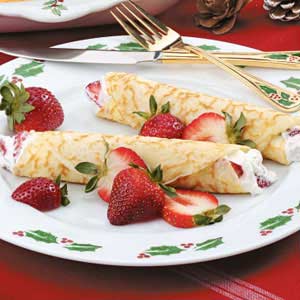 Preparation time : 20 min. | Serves 6 persons
These strawberry crepes are another addition to our collection of delicious French desserts which can be easily prepared at home. In previous crepes recipe we use different custard filling while in this recipe we use strawberry flavor filling which not only looks attractive but also tastes yummy.
Ingredients:
For Crepes Pancakes:
1 cup all-purpose flour
2 eggs
1/2 cup milk
1/2 cup water
1/4 tsp salt
2 tbsp butter (melted)
For Filling:
2 cup whipped cream
6 oz cream cheese
1½ cup icing sugar
2 cup fresh strawberries (finely chopped)
Procedure:
1. To prepare crepes pancakes follow the recipe of crepes as given here.
2. Combine ingredients mentioned for filling and make smooth batter with chunks of strawberries.
3. Now take a crepes pancake and spoon 2tbsp of prepared filling in the center bring the two opposite sides of the pancake to the center and seal it using toothpick. Similarly prepare rest of the strawberry crepes and serve in white platter with strawberry sauce.
photo source : 1