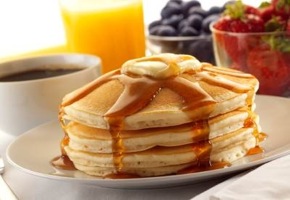 Preparation time : 15 min. | Serves 4
This is a slightly modified recipe of the original IHOP Pancakes Recipe from IHOP restaurant. The recipe has no secret ingredients except addition of some buttermiulk which makes this panckae soft and delicious.
Ingredients:
1¼ cup all-purpose flour
1 tsp baking powder
1 tsp baking soda
Pinch of salt
1 egg (lightly beaten)
1¼ cup buttermilk
2 tbsp butter (melted)
¼ cup granulated sugar
Procedure:
1. In a mixing bowl sift together dry ingredients including flour, baking powder, baking soda, and salt.
2. In another bowl whisk together egg and buttermilk until become uniform foamy mixture.
3. Gradually add dry mixture to the egg mixture and make smooth batter.
4. Add melted butter and sugar and mix well.
5. Heat griddle pan with little amount of oil (just grease the pan), using ladle pour ¼ cup of prepared batter into the center of heated griddle and cook on slow heat until become brown from the bottom side, then turn the pancake and cook other side until become brown.
6. Place the pancakes in the white serving platter, put a small cube of margarine in the center and drizzle some caramel sauce or honey on top of the pancakes. Delicious IHOP pancakes are ready to serve as breakfast meal.
photo source : 1