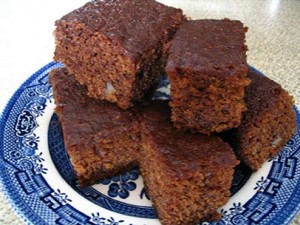 Preparation time : 70 mins. | Serves 6 persons
This ginger bread recipe is prepared with honey, while in most of other recipes molasses or brown sugar is used which gives it dark color otherwise the taste almost remains same. In this ginger bread pecans and raisins are used which enhance its flavor. You may also add some other nuts according to your taste.
Ingredients:
1 cup honey or molasses
1egg
1 tsp baking soda
2 cup flour
1 tsp ginger powder
1 tbsp butter (melted)
1/2 cup milk
½ tsp cinnamon powder
½ tsp nutmeg powder
½ cup chopped pecans
¼ cup raisins
Procedure:
1. In a mixing bowl, beat egg until yolk and white mix well with each other.
2. Now in a separate bowl, combine honey or molasses with milk and whisk for 2-3 mins.
3. Sift together flour, soda, cinnamon, nutmeg and ginger powder.
4. Add butter to the milk mixture and mix well.
5. Gradually add flour mixture and mix using wooden spoon.
6. In the end add pecans and raisins to the batter and fold them well with the mixture.
7. Pour the batter in greased baking pan and place it in preheated oven at 350 degrees F for 50-60 mins.
photo source : 1