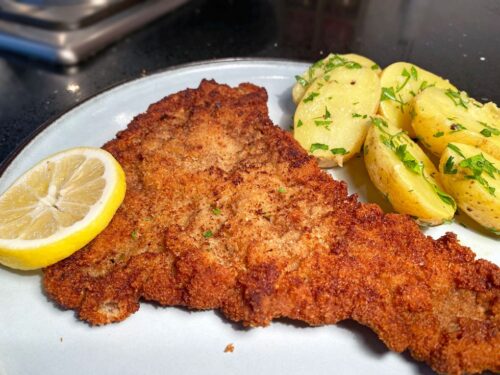 Preparation time: 10 mins. + 30 mins. Marinating time | Yield 1 fillet
This Wiener Schnitzel Recipe is inspired by a famous American restaurant. It is prepared with any kind of meat you like and it requires only a fillet or lean steak pieces to make it exactly like the one is served in the restaurant. It is usually served with boiled/garlic potatoes, fries, tomato sauce, and fresh vegetable salad.
Ingredients:
6 oz beef/veal/chicken fillet (leaned)
1 tsp salt
½ tsp white pepper
½ tsp mustard paste
1 tbsp Worchester sauce
1 egg (lightly beaten)
Dry flour for coating
Breadcrumb as required
Procedure:
1. If you are using veal or beef fillet then make it flat using a steak hammer to make it thin.
2. Marinate the fillet with salt, pepper, mustard paste, and Worchester sauce for 30 mins.
3. After that coat, the marinated fillet with dry flour on both sides, then dip in egg and then coat well with breadcrumbs.
4. Heat oil for deep frying in the pan and fry the coated fillet over medium heat for 5-7 mins. or until becomes golden brown from both sides and becomes tender from the inside.
5. Serve the hot Wiener Schnitzel with boiled potatoes, lemon wedges, and fresh vegetable salad.
photo source : 1