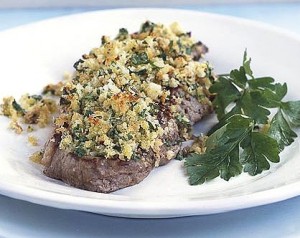 Preparation time : 20 min | Serves 4 persons
These mustard steaks are prepared with broiling process and have mustard crusted layer at the top which gives awesome flavor with herb butter topping. Try this easy recipe at home as it requires very few ingredients and can be prepared in short time.
Ingredients:
24 oz boneless beef sirloin steaks (cut into ¾" thick and then halved each piece)
¼ cup butter
2 tbsp coarse-grain mustard
1 tbsp fresh thyme
1 tsp fresh rosemary
Salt and pepper to taste
½ cup chopped onion
¼ cup bread crumbs


Procedure:
1. Preheat broiler.
2. Marinate steaks with salt and pepper.
3. Heat 1 tbsp of the butter over medium-high heat, and then cook steaks until become brown from both sides.
4. After that spread cooked steaks onto the broiler pan and sprinkle mustard over the whole steak pieces.
5. Broil for 2 to 3 min or more until steaks are cooked completely. Make sure that there should be at least 3-4 inches gap between broiler pan and heat.
6. Meanwhile heat remaining butter in the same skillet in which steaks are cooked then add half of the herbs, onion and breadcrumbs and immediately remove from heat.
7. When steaks are done pour the herb butter over the steaks and sprinkle remaining herbs.
photo source : 1