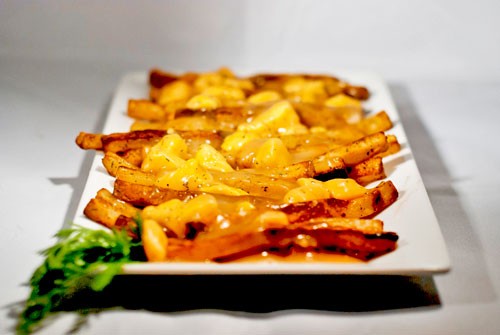 Preparation time: 20 mins. | Serves 4 persons
This Canadian Poutine Recipe is nothing but a combination of beef gravy and fries served with a topping of cheese. You can use either baked fries or deep-fried fries whatever you like. You can add different flavors to the gravy like cajun seasoning, taco seasoning, Italian seasoning, etc.
Ingredients:
1 large bowl oven baked fries
2 tbsp cornstarch
2 tbsp water
6 tbsp butter
¼ cup all-purpose flour
2 garlic cloves (finely chopped)
2½ cup beef broth
1 cup chicken broth
Salt and Pepper to taste
1½ cup cheddar cheese curds (optional)
¼ cup fresh dill (chopped)
Procedure:
1. Heat butter in a saucepan and then cook flour and melted butter together until become fragrant or turns golden in color.
2. Add garlic and cook for 1-2 mins. then slowly add beef and chicken stock and stir continuously while adding so that the mixture would get a uniform consistency.
3. Cook the mixture over medium heat until it starts to boil and becomes thick.
4. At this stage season the gravy with salt and pepper according to your taste and then cook for 1-2 mins more.
5. Take a deep dish spread the warm oven-baked fries onto the dish, spread the prepared gravy on top of the fries, and in the end top with curd cheddar cheese, and dill.
6. Serve the hot and delicious Canadian Poutine immediately with bread.