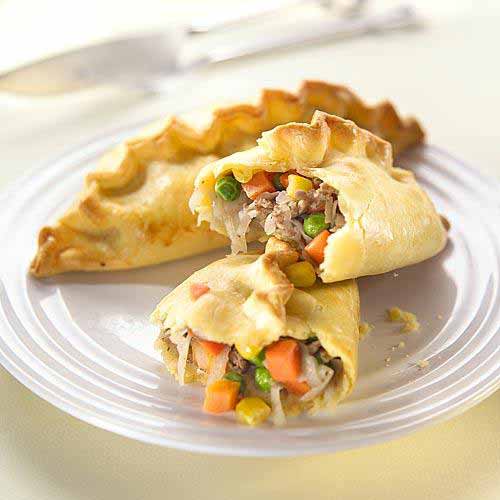 Preparation time : 60 mins. + Dough Refrigeration time | Serves 6 pasties
This Cornish Pasties Recipe is a national dish of Cornwall prepared with a particular pastry dough and filling of ground beef and vegetables. It has a very light and mild flavor of filling with crispy soft crust.
Ingredients:
For Crust:
4 cup flour
2 tsp salt
1½ cup butter
For Filling:
1 cup leaned ground beef
1 tbsp garlic (minced)
1 medium onion (Finely chopped)
2 stalk spring onions (Finely chopped)
2-3 green chilies (minced)
1 medium potato (diced)
1 medium carrot (diced)
Salt to taste
Pepper to taste
1 egg (lightly beaten)
Procedure:
1. To prepare crust, in a mixing bowl, combine flour, salt, butter, and mix until soft crumbs are formed. You can also use food processor to do this.
2. Now slowly pour ice water to the crumbs mixture and mix until form into a ball, then add sprinkle some more water and make it smooth.
3. Divide the dough into 6 equal balls, refrigerate these balls in a bowl for an hour after covering with plastic
4. Meanwhile prepare filling, in a skillet brown ground beef for 3-5 mins. then add garlic and onion and cook again for 2 mins.
5. Now add potato, carrot and spring onion and cook for another 2 mins. In the end add seasonings of green chilies, salt and pepper and stir well to cook. Filling is ready.
6. After that, roll each ball into a 5-6 inch round shape and set aside. You can use extra flour to roll smoothly.
7. Place 2-3 tbsp of prepared filling at one side of each rolled dough; brush all their edges with beaten egg and fold the circle in half over the filling so the two edges meet. Press the two edges using finger and then give twist to create a tight seal.
8. Place these pasties into the greased and dusted baking sheet and then brush each pasty all over with the remaining beaten egg.
9. Bake in preheated oven at 350 degrees F for 20-30 mins. or until become golden brown and crisp from top and edges.
10. Serve the hot delicious Cornish Pasties as teatime snack.
photo source : 1