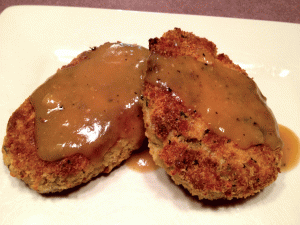 Preparation time: 40 mins. + Refrigeration time | Serves 10-12 medium croquettes
This Turkey Croquettes Recipe is very much similar to chicken croquettes. In this recipe, a thick sticky white sauce is prepared which is then mixed with cooked turkey and other vegetables. These croquettes have a nice creamy texture and usually serve with turkey gravy, which enhances their flavor.
Ingredients:
2 cups shredded cooked turkey
¼ cup chopped celery
¼ cup chopped onion
Salt and pepper to taste
¼ cup flour
¼ cup butter
½ cup chicken or turkey broth
¾ cup milk
2 egg whites (lightly beaten with 2 tbsp water)
½ cup seasoned breadcrumbs
Procedure:
1. In a mixing bowl, combine cooked turkey, onion, celery, salt, and pepper.
2. In a saucepan, melt butter, add flour, and cook for 1 min. until a pleasantly fragrant aroma starts to come.
3. Slowly add milk and broth and whisk continuously while adding so that the mixture would get an even consistency.
4. Cook the sauce for 1-2 mins. or until the sauce gets thick and pulls away from the side.
5. Transfer the sauce to the turkey mixture and mix well using a spoon. Refrigerate this mixture for 2-3 hrs. or preferably overnight so that the mixture would become firm.
6. After that, start making croquettes using the turkey mixture. Carefully dust each of the croquettes with flour, dip in egg whites, and then coat with breadcrumbs.
7. Place these croquettes onto the greased baking tray and then apply the cooking spray on top. Bake in preheated oven at 350 degrees F for 10 mins. then turn the side and bake again for 10 mins. until become crispy golden from both sides.
8. Serve the hot Turkey Croquettes with the topping of turkey gravy and mashed potatoes.